Vino Venture (Paphos)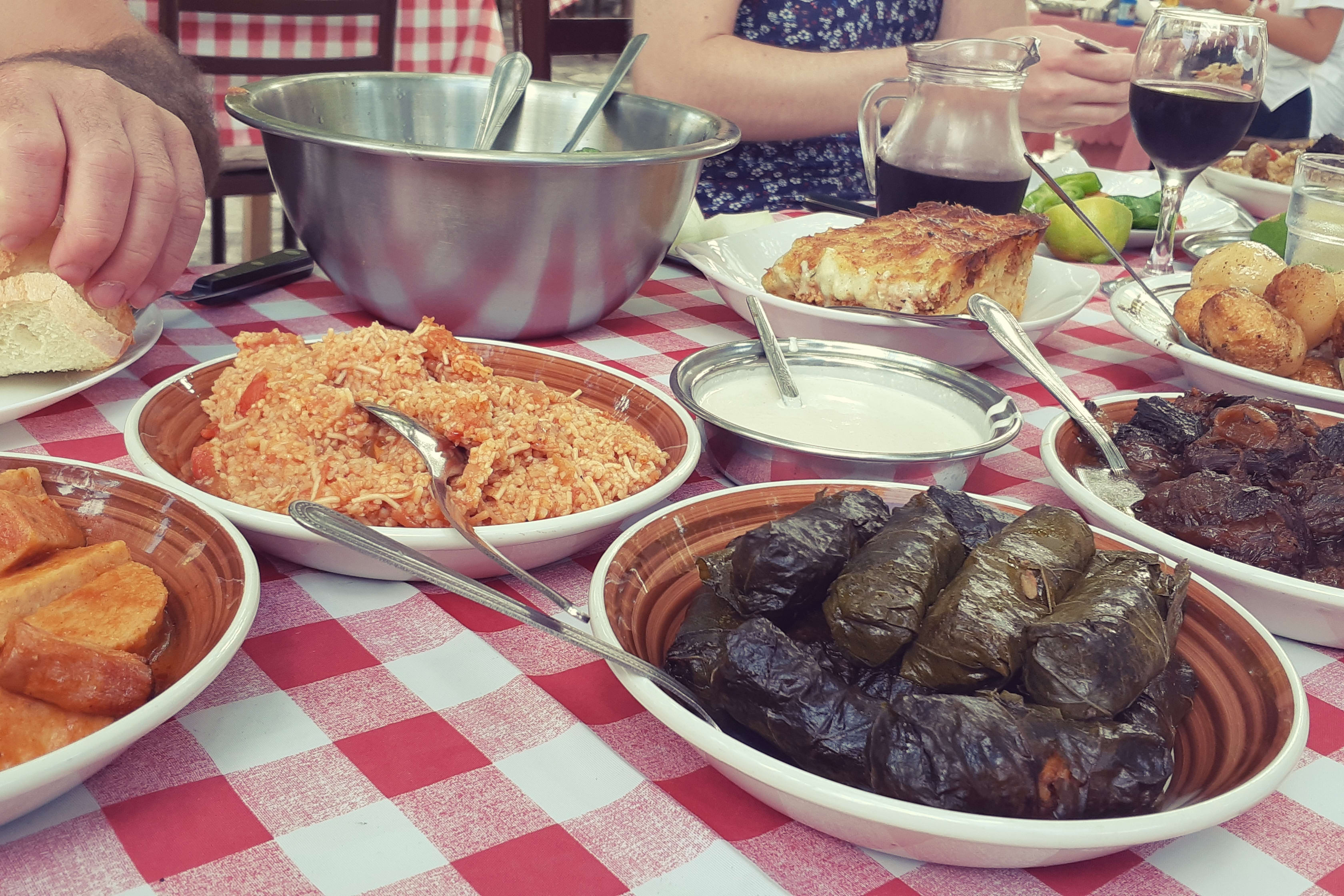 TOUR DESCRIPTION
You'll be picked up from a location of your choice and driven around the Troodos mountain villages to visit carefully selected wineries stopping along the way for lunch to feast on a selection of Cypriot dishes and enjoy a full meze spread.
We recommend participants have breakfast before the pick-up time and be prepared to finish the tour comfortably full.
*All Excursions are subject to total of participants and weather conditions.
MORE INFORMATION
What this wine tour involves…
Your guide will pick you up from a location of your choice and you'll be driven around the Troodos mountain villages to visit 4 carefully selected wineries. Each boutique winery you'll visit is family-owned and you'll have the chance to meet the individuals behind the wine-making and have all your questions answered on this brilliant small group excursion. You'll tour the premises of at least two of the wineries to learn about the process and history of wine. Through each tasting session you'll discover the indigenous grape varieties of the island and experience a selection of whites, rosés and reds. While driving through the Paphos hills we'll also include a bonus stop at an old wine press located within a historical monastery. Along the way we'll stop at a quaint village tavern to enjoy an authentic meze lunch – a spread of delicious Cypriot dishes. On this scenic mountain tour you'll enjoy the rural villages and meet real locals - plus the opportunity to buy wine at fantastic prices! Any applicable entrance fees, tasting fees, door-to-door transport, meze lunch with bottled water and one local drink (beer, wine, soft drink) are all included in the tour price.
Here's the Vino Venture Winery Tour in a nutshell…
Available from Paphos
Pick-up and drop-off from a location of your choice
6.5hrs* of touring through the Troodos mountain villages
Explore with a true local and benefit from a bilingual guide
Fantastic scenery and historical sights along the way
4 award-winning wineries with winery tour
4 wine tastings with 20+ wines for sampling
Opportunity to buy wine at great prices
Learn about the wine-making process and Cypriot indigenous grape varieties
Stop for lunch and enjoy a full traditional meze with lots of Cypriot dishes
Photo memories taken by your guide and then sent to you by email
Leave us with an extensive recommendation list of further foods and places to try
Adjustable and suitable for vegetarians, vegans & gluten-free participants
Small groups of no more than 7 people per tour
No hidden extra costs – All inclusive price of €95.00pp
Children under 13yrs old join with 50% discount
*This tour is approx. 6.5hrs when leaving from and returning to Paphos
**This small group tour runs every Friday from Paphos.
Pick up from Paphos will be between 09:00hrs - 09:30hrs
ADJUSTABLE FOR*…
VEGETARIANS – YES VEGANS - YES** GLUTEN-FREE - YES
*Dietary requirements must be submitted at least 48hrs before the start of the tour. We make sure that participants with dietary restrictions will not go hungry but it should be noted that there will be dishes within the meze that would have to be skipped.
**Please note that vegans may have to skip some wines due to the fining process.
If you have a particular dietary requirement, kindly please email us 48hrs prior to travel date at bookings@cyprus-sightseeing.com.